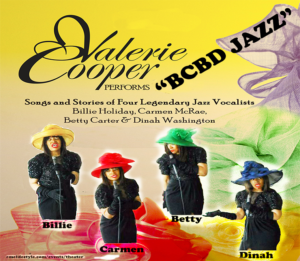 BCBD JAZZ is a play of Jazz songs and monologue of each jazz singer, the play is about four legendary Jazz Singers, Billie Holiday, Carmen McRae, & Betty Carter.  Ms. Cooper pays tribute to each singer and features the singer's introspective verse and songs that each performed.  Written and performed by Valerie Cooper. Performed solo with audio visual or duo, trio, quartet or quintet. An engaging presentation!
Approximately 2 hours
BCBD JAZZ donations are Tax Deductible   (Click donation button for donation offeringd
BCBD JAZZ  —   Coming soon!  Dates to be announced.
Matching Birthdays for Inspiration
Allowing young adults to uncover a personal connection in their birthdays that would motivate them to embrace uniqueness in their lives